Infinity Pools, endless horizon or lost horizon pools, are a type of overflowing pool. This type of edging system requires to have open clear views to the horizon. Otherwise it will be not possible to get the infinite effect. This effect happens when the water overflows over the pool wall without any surface after it, and by having the collection of water in a channel at a lower level than that of the edge.
In this way, an optical illusion is created making it look as if the pool has no physical limits, hence the water edge is aligned with the horizon. This effect can be made within one, two, three or even four sides of the pool. However, making it in one or two sides is the most common choice.
The higher the pool above the horizon views the better the effect. We can get amazing results in outdoor places facing cliffs, valleys, rooftops, terraces or cantilever pools.
But this is not something exclusive for big buildings, as many private owners bet also on this trend. The unique effect provides differentiation and increases the value of the property.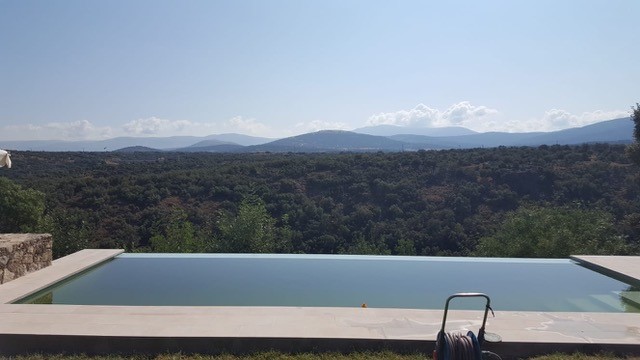 Gres Aragónhas its own brand for pool ceramics called ACEPOOL®, offering all special and basic pieces to solve any kind of pool edging. Either not overflowing with skimmers, overflow finish system or infinity. Talking about infinity pools, a 30, 60 or 120-cm edging pieces are available, together with radial tiles, which will help have a soft overflow drainage, minimizing noise and splashes. Pools equipped with ACEPOOL® by Gres Aragon pieces are safe, hygienical and offer a very high quality.
Finishing pieces of ACEPOOL® by Gres Aragon, are produced by extrusion technology, with porcelain material offering a water absorption less than 0,5%, and high mechanical strength. All this features result in high standards for pools, making them resistant to all kind of efforts taking place in a pool and to chemicals products used in cleaning treatments, becoming so easy to clean and maintain. Moreover they are compatible for marine water, high salt content water or new salt treatment methods.
Safety against fallings is guaranteed (as long as the installation is correctly and wisely used) due to its non-slip feature B or C, tested according DIN 51097 standard.
Regarding health safety, the rounded shapes used in intersections allow an easy cleaning and avoid pathogen proliferation. If a higher protection is required, Bioklinker®technology is the best choice, as it adds anti pathogen properties by using an additive before the firing of ceramic pieces. These anti pathogen properties are tested according to standard JIS Z-2801:2010 (ISO 22196), certifying a decrease of 99% of deposited pathogens in 24 hours.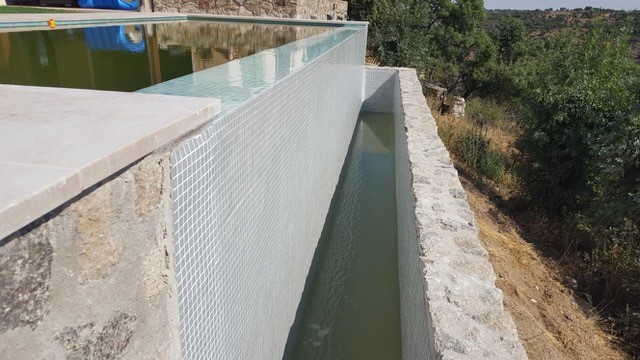 Rounded shapes are also an enhanced safety guarantee during use, because they are designed to avoid injuries, taking special care in junctions, by the existing specific range of pieces, to solve it in a safe way.
Thanks to Klinkjet® technology, it is possible to ensure the technical features mentioned above with the best and trendy design. It also enables high resolution replica of materials such as wood, marble, stone that would not be recommended to use in aquatic facilities because of its low resistance; providing the high performant features of ceramics. In using Klinkjet® technology it is also possible to decorate all visible faces and planes of the piece with continuous design. It's even offered rigid and flexible grids for ceramic curbs with the same design as the rest of the pool, in order to achieve the highest level of finishing by eliminating currently used strings in other ignoble materials. Haven't you visited yet our website? https://gresaragon.com/en
If you are a pool sector professional don't miss to download the specific catalogue HERE www.acepool.es
José Manuel Grao Blasco
Contract and Innovation Manager